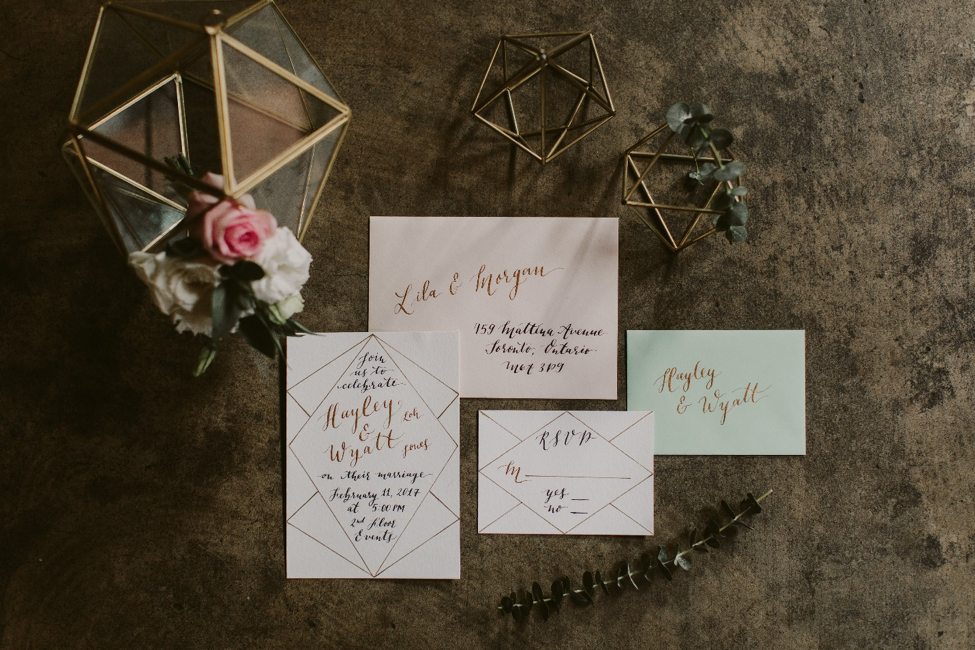 Whatever the occasion—a social event, fundraiser or wedding—your invitation sets the tone for the event.
Regardless if you send your invitation via email as an attached PDF, use a digital e-vite service or platform, or choose to send a physical card stock version using snail mail, it's important to make a mark and create an eye-catching invite for your next social event by using the proper invitation etiquette.
You want your invitation to scream, "This sounds fabulous! I can't miss it!"
Instead of "maybe I'll think about it."
The excitement begins when your guests open your invitation. It's the first peek they have of the special occasion that's yet to come so make it memorable and complete by following the invitation etiquette do's and don'ts listed below:
DO match your invitation to the style of your event. Is your event formal or a casual backyard get together? Is it a corporate event or a family and friends celebration? Is it Birthday party, Baby or Bridal shower for a friend? Or is your event a networking social where you'll be inviting hundreds of people?
Your invites need to be polished and eye-catching, but they should also represent the overall theme of the event. Choose fonts, typography, colours and images that accurately reflect the event. Don't forget to make sure your invite is also readable from a distance. I love working with my clients to plan out the perfect invitation "branding" to match the style of their occasion.
DO include all event details. This goes without saying, but you won't imagine how many of my clients draft their event invite without including all the necessary information. Your eye-catching invitation might have great branding and colourful imagery but it will be no good if your recipients get lost on the way to the event because the address was incomplete. Trust me, it happens.
No matter the occasion or social event, your invitation should always include the following elements:
Name: You'll want to include the business name, brand or hosts name on your invitation so people can identify who the invite is from right away. If it's unclear who is sending the invite, the recipient might just toss it or think it's sales. You'll also want to include the guest name if possible.
Date: Make sure that the date is set in stone. There's nothing worse than changing the date or specifying the incorrect date of the event.
Time: Similar to the date, make sure the time is set in stone. The time you include should be the exact time the doors open and the event begins.
Location: Be sure to include the location of the occasion including the name of the venue. This is a piece of information that guests use to determine if they will be able to make it. If you're doing a digital invitation or posting it online, also take the extra step of including a map for the venue.
Contact: You always want to include contact information. Whether it's a phone number or e-mail address, include your contact information so that you can easily be reached if guests have any questions.
Yes, recipients can always call and inquire about the event details, but when you're in the midst of planning a major party for 300 people or worrying about the catering, having a million guest emails in your inbox won't be cute. You want to make sure that everything is presented on the event invitation for the convenience of your guests.
DO include the appropriate dress code. If there's a dress code for the occasion, include the details on your event invitations so every guest can wear the appropriate attire. Corporate events or formal galas might require special wardrobe and your guests will need to know this information in advance of RSVPing their attendance. Common phrases used to indicate a dress code include: Black Tie, Cocktail Attire, Casual or Smart Business.
DON'T send out your invitation at the last minute. Last minute invites receive last minute attention. The event may generate some positive responses but most people might already be booked on your event date. For smaller events invitations should go out six to eight weeks in advance. For larger conferences and higher-priced ticketed events, you could even launch your event three months in advance. Be considerate of your guests and think about if they have to travel from out of town to attend the event.
DON'T use abbreviation. When it comes to invitations, a general rule of them to follow when it comes to invitation wording is to avoid abbreviating names of places and street addresses. The invitation should list the full address including venue name, street address, city and province.
DON'T forget to acknowledge if the invite includes a plus one. If only the guest's name is listed, then it is implied that extra guests are not appropriate. Make sure you list "and Guest" or even "plus One" if an additional head count is permitted.
Whatever the type and scale of the event, occasion or celebration you're planning, these invitation etiquette do's and don'ts are sure to help you create the perfect invite that gives your guests a glimpse of the festivities to come!
If you're planning for your next event and could use the assistance of a seasoned planner, browse my portfolio and use the contact form below to get in touch. I'd love to hear from you!
Cover photo by: Brandon Scott Photography